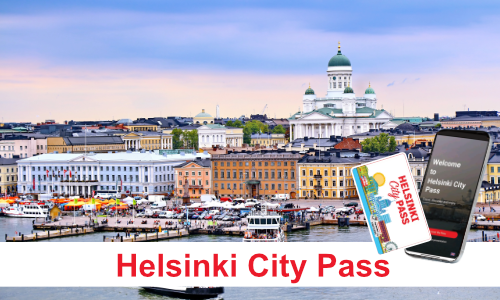 Otipass is honoured to announce the launch of the international Helsinki City Pass project in early summer 2023. The project is designed to make it easier to discover Finland's capital and the surrounding area thanks to a City Pass available for 3 durations: 24h, 48h and 72h.
Tourists wishing to purchase the pass can do so either via the online shop on the e-commerce site dedicated to the city pass and developed by Otipass https://citypass.fi/lang/en or via the shop integrated into the site's mobile application, also developed by Otipass.
The pass also adds the option of an m-ticket or dematerialised public transport ticket from the Finnish company HSL (Helsingin Seudun Liikenne or the Helsinki regional transport authority linking 9 municipalities attached to Helsinki). Thanks to HSL's API, Otipass has developed an interface that allows tourists not only to carry their e-ticket in the City Pass mobile application, but also to have their transport ticket for a better discovery of this beautiful destination.
Thanks to the Helsinky City Pass, tourists can visit the city's main museums free of charge, use public transport and also take Hop-on Hop-off tourist buses that drop them off at the main attractions, as well as a cruise linking several islands around Helsinki in the Baltic Sea. Here's a list of all the attractions: https://citypass.fi/list-of-services plus a host of extra discounts!
For Otipass, the experience of introducing this City Pass internationally in Finland has been rich in lessons. Customer satisfaction is proof of Otipass' ability to deliver a system completely in English, with training and support included. In Citytour, the company with which we signed the contract, we found responsive contacts such as Anna Permana, Marketing Manager, who were able to put in place the entire infrastructure and agreements with the various establishments forming part of the system. Otipass would also like to thank HSL for helping us certify our application, which includes Helsinki's public transport system.
Most establishments use the smartphone control application developed by Otipass and downloadable from the stores. All information on pass management and statistics is available in English in the back office.